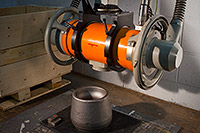 Radiographic Inspection involves the use of penetrating X or gamma radiation to examine parts and products for imperfections. An x-ray machine or radioactive isotope is used as a source of radiation, and is directed through a part and on to film. When the film is developed, a radiograph is obtained that shows the internal soundness of a part. Possible imperfections show up as density changes in the film, in much the same manner as an x-ray can show broken bones. We have the ability to penetrate up to 15 inches in thickness.
NDT Specialists Radiography department has the right equipment to handle you needs. With both high voltage and low voltage X-Ray as well as gamma sources available there is no job to big or too small. Here is a list of just some of the equipment we have to help ensure your project is done as quickly and efficiently as possible:
High and Low Energy Vaults
6 MEV Linear accelerator
160 kv, 320 kv, 420 kv X-Ray Tubes
10 Ton Turntable
Iridium and Cobalt Gamma Sources
Level III Services
60/15 Ton Crane
This is just a highlight of what NDT Specialist has to offer you. Please contact us with any other question or concerns regarding our ability to complete your projects.