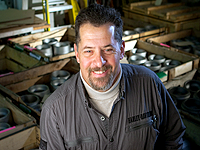 "In 1988, I started NDT Specialists, Inc. on Jones Island in Milwaukee, WI to service an ever growing need for nondestructive testing. We had just 2 employees at that time and now we have grown to over 25 employees. NDT has accomplished this through the use of applying family values and mutual respect, building upon our employee's strengths, and helping to strengthen their weaknesses. We pride ourselves on being able to give our employees a great working environment that includes: competitive wages, great benefits and great working conditions. The effort and dedication that our technicians put forth are the main reasons that we are able to exceed our customer's expectations. In addition to giving back to our employee's, NDT Specialists also takes much pride in giving back to the community through fund raisers, donations and sponsorships to name a few."
Lawrence J. Schneider Sr.
President of NDT Specialists, Inc.
NDT Specialists headquarters is located at:
7365 South Howell Ave. Oak Creek, WI 53154. This facility was built in 2012 and boasts the following features:
18,000 Square Foot Facility
60 Ton Main Crane with 15 Ton Auxiliary
Loading Dock •16 foot overhead door
Ability to Load/Unload Flatbed Inside
Dedicated Conference/Classroom Area