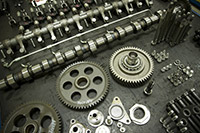 The automotive industry has a vast need for industrial inspection. Almost all the components in the automotive industry need to be inspected for discontinuities that could lead to failure.
Magnetic Particle Inspection is an inexpensive, quick and efficient way to check a variety of sized items for surface and slightly subsurface indications such as cracks that may lead to the failure.
NDT Specialist has experience dealing a variety of automotive related items from exhaust manifolds to radiators.